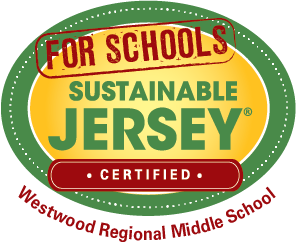 WRMS Awarded Sustainability Grant
Shelley LaForgia
Friday, June 05, 2020
Westwood Regional Middle School, through the efforts of our Environmental Club and Advisor Mrs. Mary Dominiczak, have been awarded a $10,000 and $2,000 Sustainable Jersey capacity-building grant funded by the PSEG Foundation. Five $10,000 grants and twenty-five $2,000 grants were awarded to schools and districts throughout the state. 30 NJ School-Based Sustainability Projects Advance with Grant Funding
The $10,000 grant will fund our participation in the Fill-It Forward Program. Through the Fill-It Forward Program, each student will be supplied with a scannable decal. Each time a student refills a bottle they will scan their decal using the Cupanion app. This will allow students to track their personal environmental footprint, see the waste diverted from landfills, emissions saved, and how much ocean pollution they have helped prevent. Locally, it is projected that the program can eliminate 31 pounds of single-use plastic a day, for a total of 11,315 pounds a year.
Additionally, this program has a global impact. Each refill scan will result in a two-cent donation to Water Aid Tanzania: Deliver Life Program. The focus of this program is to improve maternal health by providing water and sanitation services at 12 obstetric and neonatal care clinics in two rural towns. A total of 666,000 people will be helped by the monetary donations generated by the Fill-It Forward refill scans.
The $2,000 grant will fund a recycling center using TerraCycle Zero Waste Boxes. Our club members conducted research to identify items that are regularly thrown into the trash in a school setting: pens and refillable pencils, art and office supplies, candy/snack wrappers, small audio (broken headphones and earbuds), batteries, and 3-ring binders. The TerraCycle boxes will be filled with the targeted items and then shipped to the TerraCycle Company where they will be broken down into their component parts and recycled or upcycled.
Thank you to our students and faculty for supporting our efforts to reduce our negative environmental footprint and develop environmentally-conscious and civic-minded students!